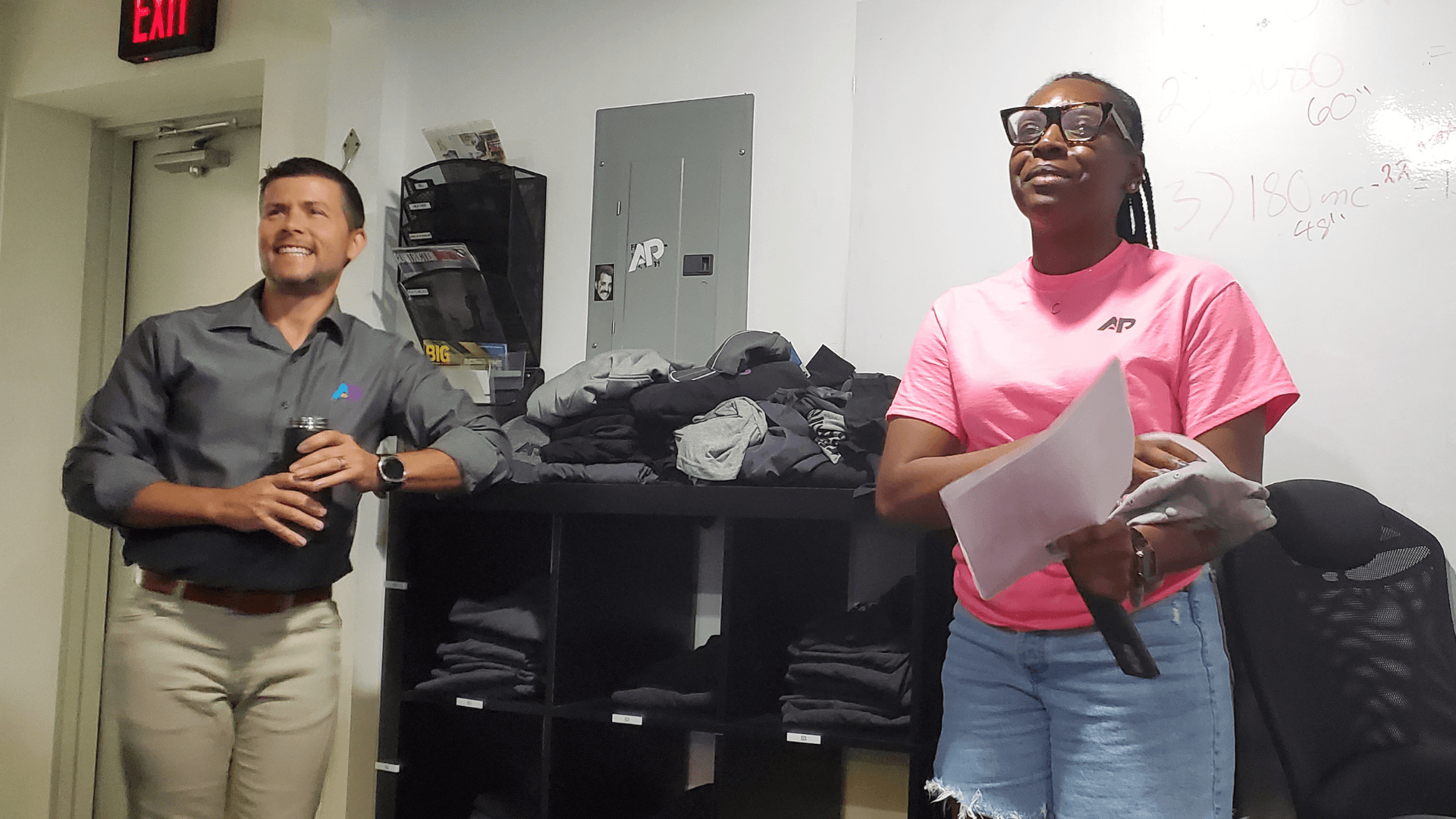 While some companies will pile their entire staff into a stuffy room for several hours of presentations every so often, AP Corp takes a different approach to staff meetings. Yes, we do start off with the usual company-provided breakfast and presentations from management, but we've made sure to include something extra special at the end. This time, it was the first-ever Freaky Friday at AP Corp. Read on to learn exactly what that means.
The Usual Department Updates
After some motivating words from our CEO, Bill Valway, on how well our company is working as a team and how we finally have the right people in the right positions, our Production Manager took center stage. He shares that the department has significantly reduced waste and built a training wall for those in the AP Academy, our on-the-job training program.
Sales then took over to tell us about some of our biggest projects of quarter two. These included awesome installations of switchable smart film, an adorable perforated window graphics installation for Waghouse Dog Daycare, and an out-of-state commercial graphics installation so cool that we legally can't tell you more. Of course, these awesome projects would never be possible without our coordination and installation teams, both of which have grown substantially.
Finally, design and marketing worked together extensively throughout the second quarter. In addition to their daily activities and client work, the design team worked with the marketing department to launch a new website for our subsidiary, Carolina Solar Security, and launch a line of renter-friendly peel and stick wallpapers.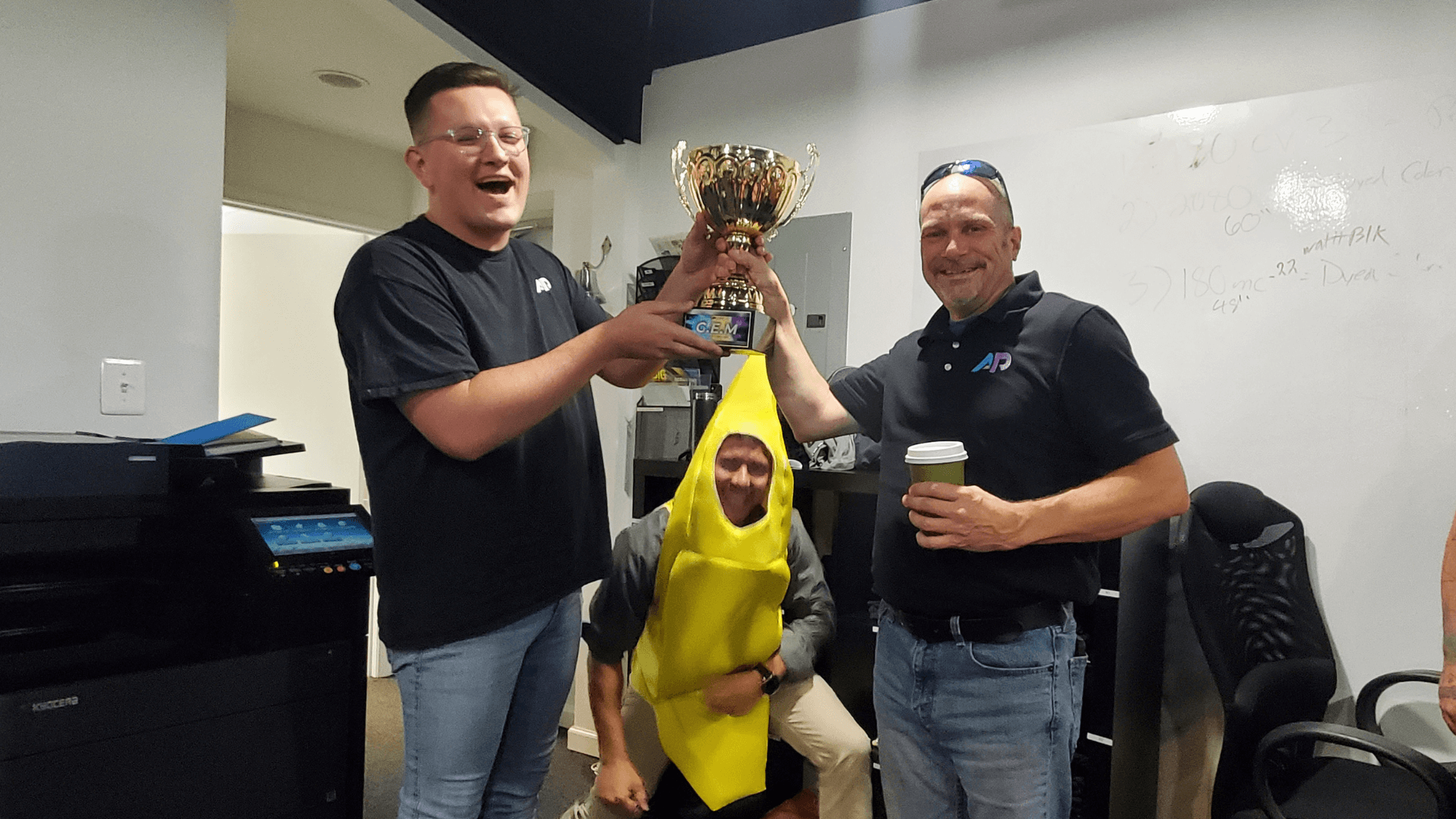 The GEM Award Winner(s)
At each quarterly all-hands meeting, AP Corp's leaders choose one member of the staff to recognize with the covered GEM (going the extra mile) award. But here's the thing, there couldn't possibly be a single winner for the 2022 Quarter Two GEM Award, because there was no way to choose between Colton and Dan!
Colton, our Junior Graphic Designer, and Dan, Production Manager, are the very embodiment of exceeding expectations. In their time here, they have made waves, asked the right questions, and pushed our company in a positive direction. Beyond that, they both jumped that every opportunity to help other departments during their special project.
Thank you, Colton & Dan, we couldn't ask for better teammates!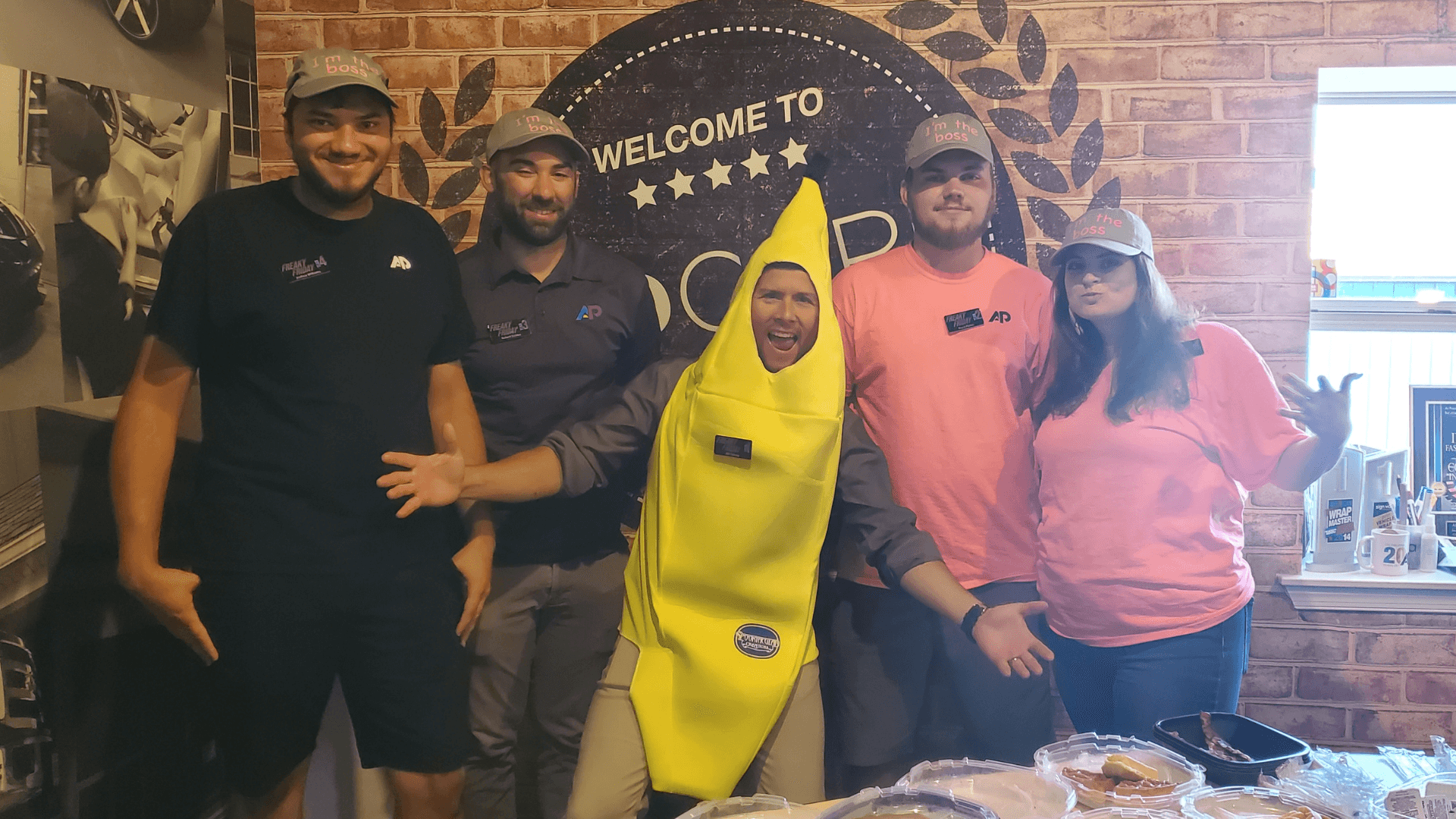 What the Freak is Freaky Friday at AP Corp
As we said, breakfast and department updates are only one piece of the AP Corp all-hands meeting agenda. The second half is where things get really interesting. Our social committee, internally called the secret society, knew they had their work cut out for them, especially after the success of our hackathon in April. So, they hosted Freaky Friday at AP Corp. A quick exercise where everyone had to switch jobs!
To make Freaky Friday work, the social committee divided the group into four teams with representatives from every department, save business management, design, and marketing. These groups were given one and a half hours to write an email newsletter and email drip campaign to reengage existing customers, get in touch, sell the job, design, and coordinate installation. One member from each
Who were these existing customers? They weren't customers at all, it was the members of AP Corp's social committee prepared with customer back stories based on characters from Kind of the Hill. In their roles as Extermination Business Owner Dale Gribble, Army Barber Bill Dauterive, News Anchor Nancy Hicks Gribble, and Substitute Teacher Peggy Hill, the members of the social committee committed themselves to act their part and inquiring about different commercial graphics solutions.
How Freaky Friday at AP Corp Went
So, with the timer running and some basic instructions in hand, the teams got to work. Each group had an assigned "CEO" to lead them as they tried their hand at every job from marketing to coordination.  They all had their challenges using the technology of different departments, educating their "customers," and working through a project from start to finish. But every group progressed to the design phase.
But every contest has a winner, and the winner of Freaky Friday at AP Corp was, without a doubt, Group Three. Group Three followed the instructions provided, followed the guidance of their team's CEO, and went the extra mile for their customer, Nancy Hicks Gribble. When "Nancy," asked for an Uber to her proof approval appointment, they grabbed a rolling chair to push her through the office. When she said she needed mayo to make her son's lunch, they found some. And most importantly, they leveraged our company values to find their client a solution that fit her budget and needs.
We can't close out this section without mentioning Group Three's CEO for the Challenge, Rob, who really rose to the occasion. Rob's quick thinking, professional demeanor, and creativity won him the honor of being the "Best CEO."
What We Learned
Freaky Friday at AP Corp was fun, but there was still a lesson to be learned. And really, we got to see our CEO's words about having the right people in the right seats in action.
By trading places for an hour and a half, we saw what our coworkers actually do, the kinds of skills they've developed to do it, and how each piece of the puzzle works together. Not only did we get a newfound appreciation for what we all do, we saw firsthand that the key to our success is our placement. If you shuffle our team and put us in roles that don't match what we can and want to do, then we just don't work as well.