Onward & Upward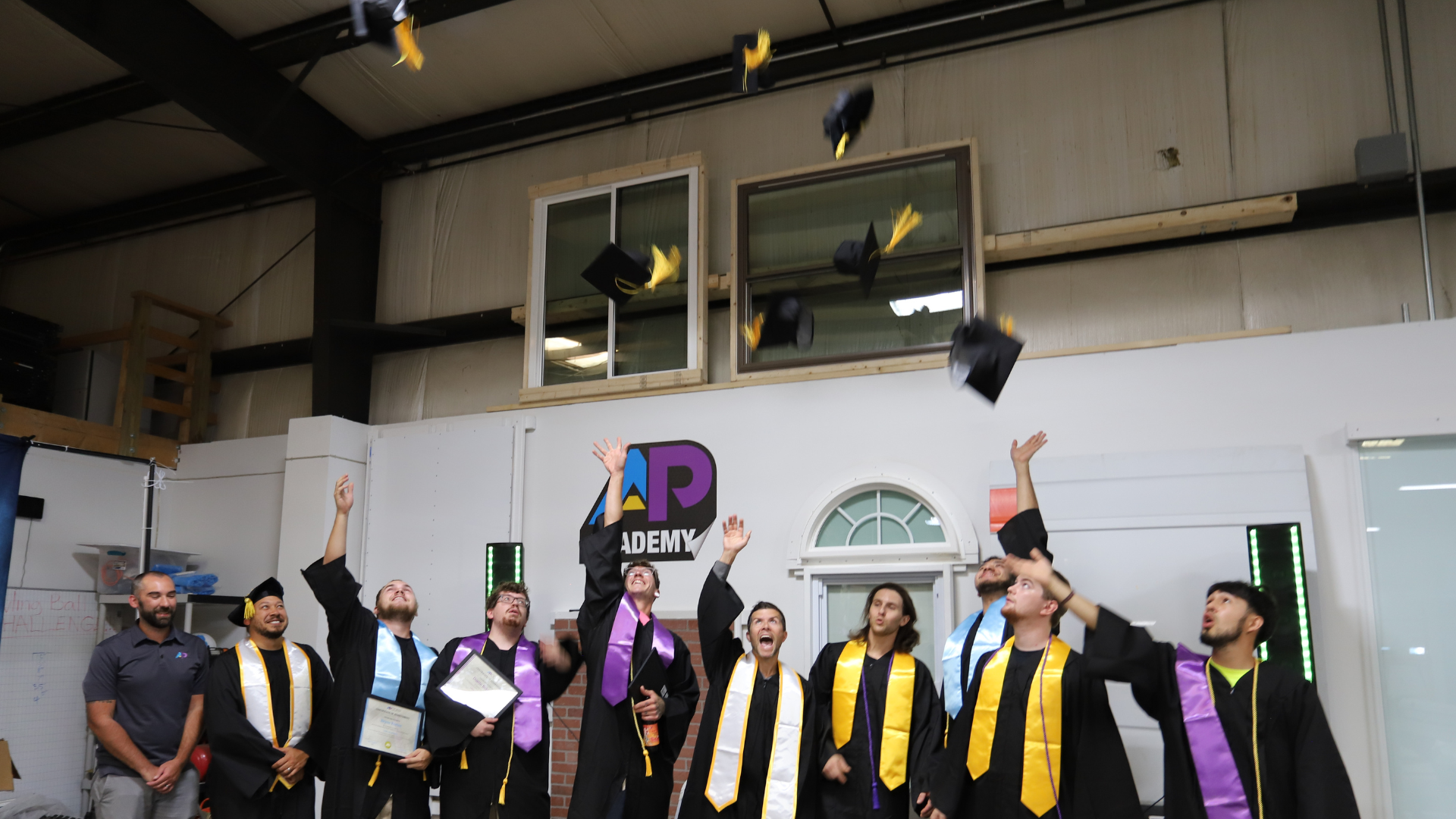 Robert Eichler (Account Manager), Chris Fong (Principal Engineer), Bryce Porter (Professional Installer), Dustin Boisvert (Beginner Installer), Christian Logue (Beginner Installer), Bill Valway (CEO & Founder), Christopher Heinlein (Install Manager), Josh Williams (Professional Installer), Alex Metcalf (Flat Glass Lead), and Christian Tejada (Beginner Installer).
After months of training, hard work, and unbeatable dedication our installation team has reached an incredible milestone. Every installer who joined our on-the-job training program, the AP Academy, in 2022 has advanced to the next level. Read on to learn more about the Academy and join us in saying Congrats to the AP Academy Grads!
The Ap Academy Levels
There's no experience necessary to join the AP Academy, but a successful applicant needs to be a good cultural fit and demonstrate a general knowledge of and interest in our industry. If an applicant checks all the boxes related to our vision and core values, they enter the program as an Apprentice. Apprentices begin their careers at AP with the typical paperwork and onboarding presentation before jumping into hands-on training.
Placement tests are administrated to those in the AP Academy throughout their journey. When apprentices demonstrate that they've developed the fundamentals, they advance to the "Beginner" installer position. As they advance their skillset, they can continue with more rigorous tests. Beginners become Professionals, and Professionals become Expert Installers. This continued testing creates a clear path to career advancement and pay increases.
To celebrate the advancement of several installers, we hosted a literal graduation ceremony at our second location in Sykesville, Maryland. We had caps, gowns, and music to bring all the pom and circumstance of graduation to our corner of the world.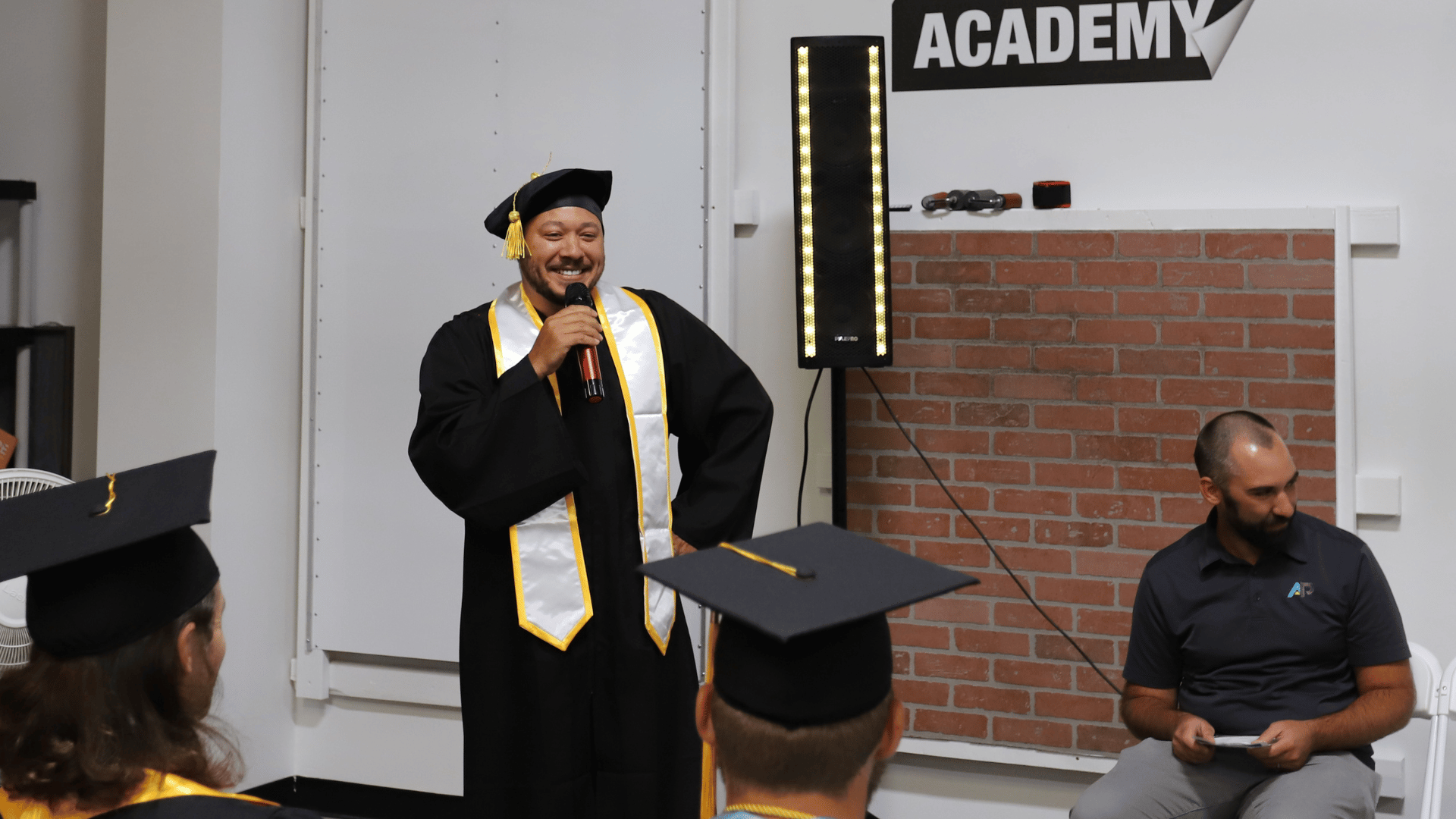 Meet the Speakers
Like any graduation ceremony, we lined up speakers to congratulate the AP Academy grads.
First to take the mic was our CEO and Founder, Bill Valway. Bill, who takes personal ownership of our training program and onboarding process. Bill kicked off the AP Academy graduation ceremony by praising our current installation crew for their dedication and great attitudes. And Bill's not one for platitudes, he got specific to each person.
Next up was our Principal Engineer and AP-All-Star, Chris Fong. As the only Graphic Designer in AP's history to become an installer (and a highly skilled one at that). Chris shared a proverb with the company, as he often does, about two frogs trapped in a bowl of milk. While one frog gave up on escaping and drowned, the other tried and tried until the milk churned into cheese. How does this relate? He believes our current installation crew has the drive to make it in our industry.
Last up was Account Manager and the day's Keynote Speaker, Rob Eichler. Rob was selected as the keynote speaker for two reasons. 1) He's funny, and 2) he's tried to install before to disastrous effect. He left them with a simple sentiment, "You could probably do my job, but I could never do yours. We aren't a company without you guys."
Side note: the AP team got to witness Rob's installation attempts first hand at the wrap contest. Click here to read all about it.
Meet the AP Academy Grads
Now, we hope you will join us in congratulating the AP Academy Grads.
After joining the AP Academy in mid-June of this year, Christian Logue, Christian Tejada, Dustin Boisvert have moved from the apprentice level to beginners. And individuals moving on to the Professional Installer level include Josh Williams and Bryce Potter. These two joined the team in March of 2022.
Finally, we decided it was finally time to celebrate our expert-level installers, Chris Heinlein and Alex Metcalf. To be clear, these two have held the positions of Install Manager and Flat Glass Lead (respectively) for months, but they had not yet been honored for their dedication. They have both acted as guiding lights for our newer hires. They watch the work of newer installers closely, monitor their progress, and provide invaluable assistance in the field.
The Journey Continues
As we celebrate the accomplishments of our team, we eagerly look forward to the future in front of our company. We are really only as good as our installers, and we know they have so much more to show us. We're glad for the opportunity to share the progress of our installer's careers with everyone who has been following us, and we hope that you'll stick around to see how far they will go here.