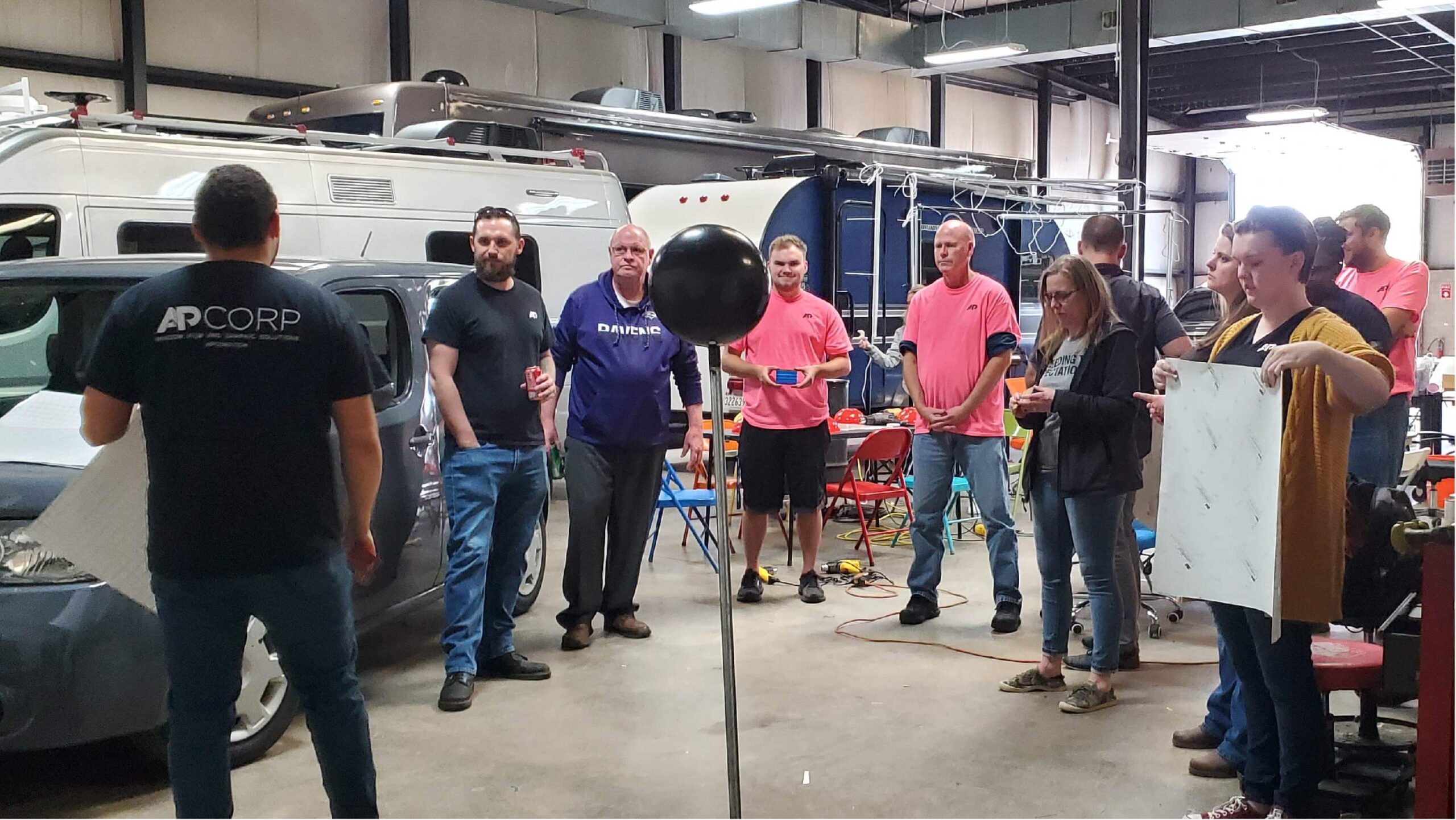 For the first time ever, AP Corp hosted our annual wrap contest on March 18, 2022, at our second location; named AP2. We gave away some great prizes, enjoyed amazing pizza, and witnessed some incredible wrapping skills as employees came out to go for the gold. Our thanks go out to Principal Engineer Chris Fong and Business Manager Mia Pierre for organizing such an awesome event!
So, want to know what went down at AP2? Keep reading to find out.
Why We Did It
Why did we hold the Wrap Contest? Well, for several reasons. First, we decided that everyone, in every department, could use this as an opportunity to refresh their knowledge of AP processes and procedures. We wanted everyone to get a little more hands-on experience with our products and services in a low-stress environment. The second reason for organizing the wrap contest is simple and silly. It was just plain fun!
Our goal was to ensure everyone bonded with coworkers outside of their department and knew more about wraps than they did before they came in that day. The event accomplished just that!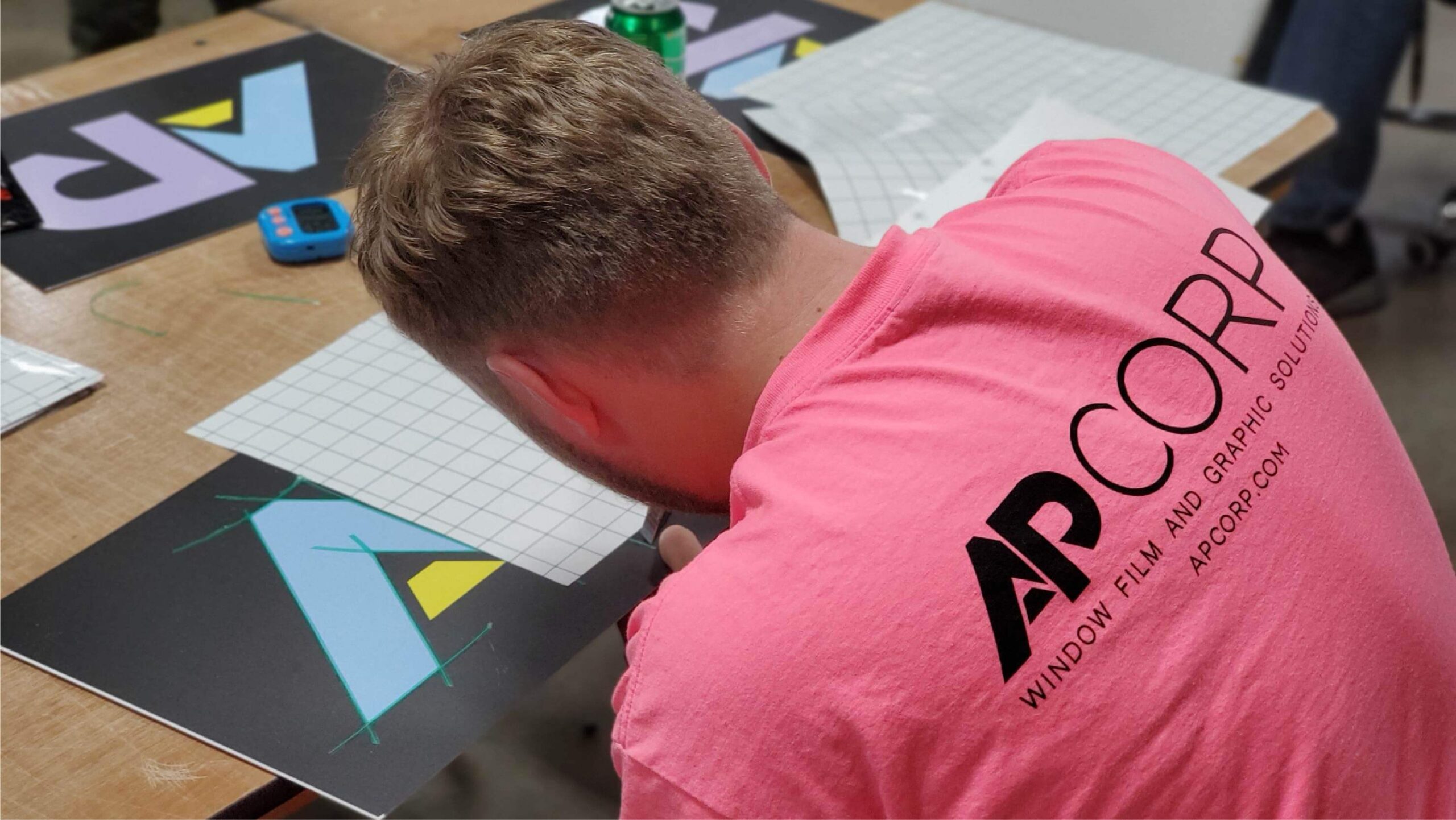 Knifeless Tape
Knives are a useful tool when installing a wrap, but they simply can't be used every time. Some wraps involve intricate shapes that must be cut out, some pieces of vinyl are too thick for a standard knife. These are the cases when knifeless tape comes in handy.
Knifeless tape is really just tape with a twist. It has a thin thread of nylon embedded in it. This tape is laid in one piece before the vinyl is applied. When the vinyl is placed, the installer can bend the tape, release the thread, and pull it through the material.
During the wrap contest, everyone had 10 minutes to align the tape, apply the vinyl, and pull it through to create a vinyl cut-out of the AP logo. The judges were looking for accuracy and degree of completion on this challenge. After giving it a fair shot, we can all agree that 10 minutes is not nearly enough time!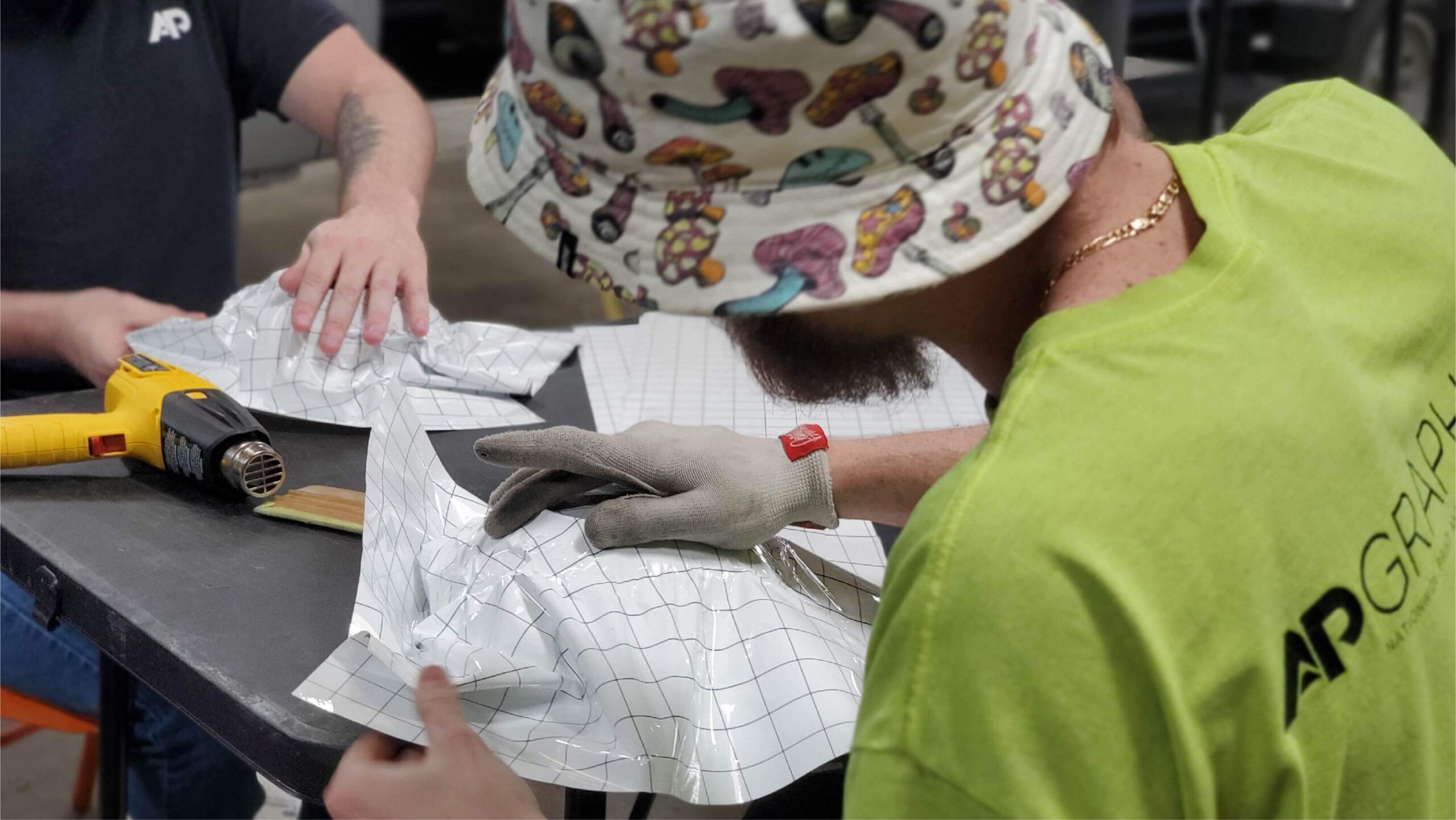 The Salad Bowl
To wrap the plastic salad bowl, contestants had to warm the vinyl with a heating gun before applying it. Then, juggling the bowl, a heat gun, and a squeegee, contestants attempted to wrap the bowl in under 5 minutes.
The judges were watching for completion and a smooth, wrinkle-free wrap at the salad bowl challenge. Our installers, of course, aced this test along with a few members of our office staff. But the small ridges and curved foot of the bowl proved challenging for many.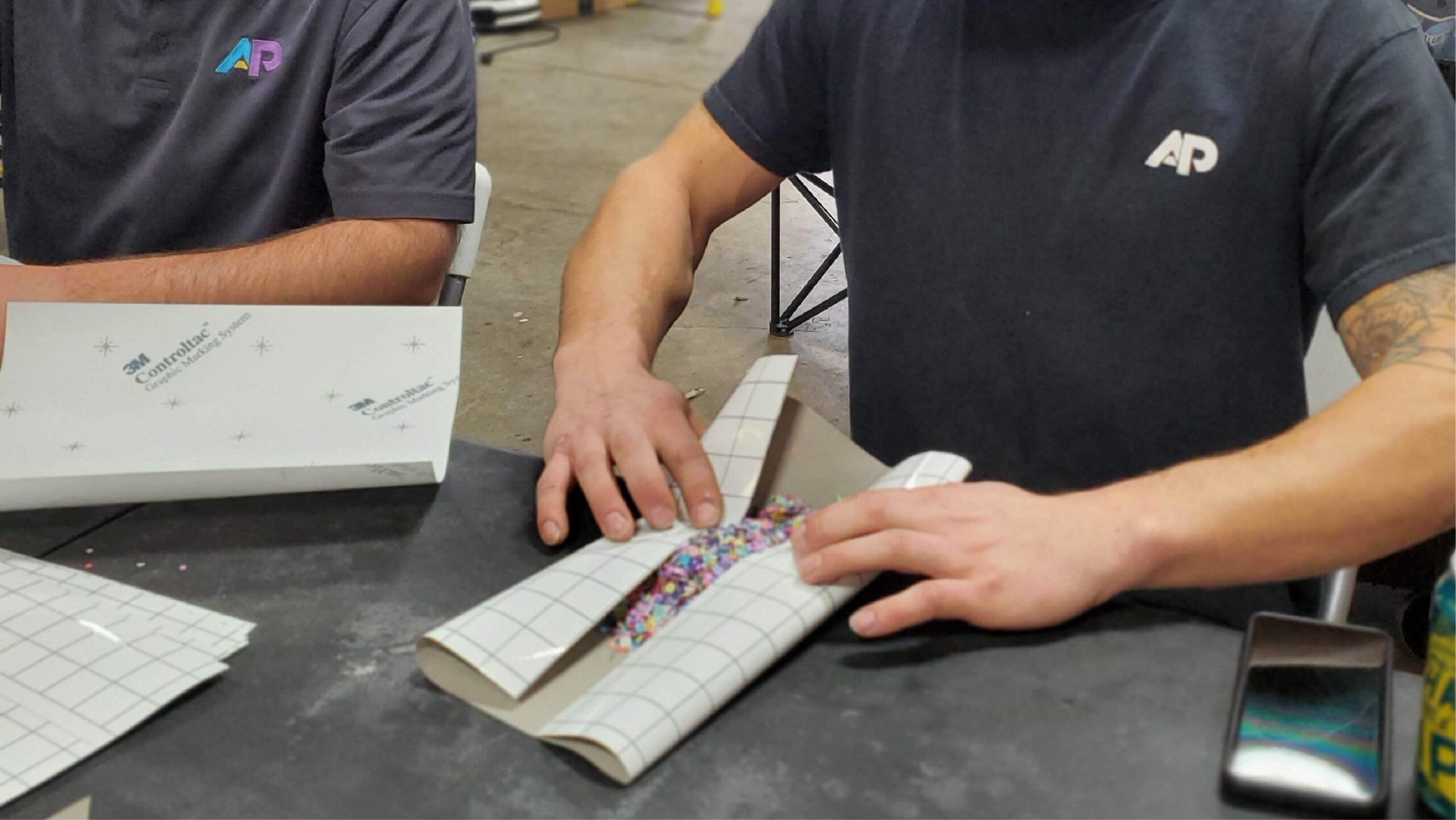 The Burrito
Everyone loves a good burrito, so we added one to the Wrap Contest. Contestants were given a square of vinyl, a cup of confetti, and 5 minutes to make the best burrito they could. Burrito's were scored based on confetti included and overall burrito-ness.
Wrapping a confetti burrito is quick, but can it pass the judge's infamous "shake test?" When the contestants had their burrito's ready for review, the panel of judges took them and gave them a good shake. If your burrito lost its colorful filling, you lost points.
The Winner
No one was surprised when Tyler Berry, an AP Corp star installer and GEM award winner, won in a landslide. Tyler's precision and attention to detail set a high standard, and the time limits of our challenges didn't seem to faze him at all!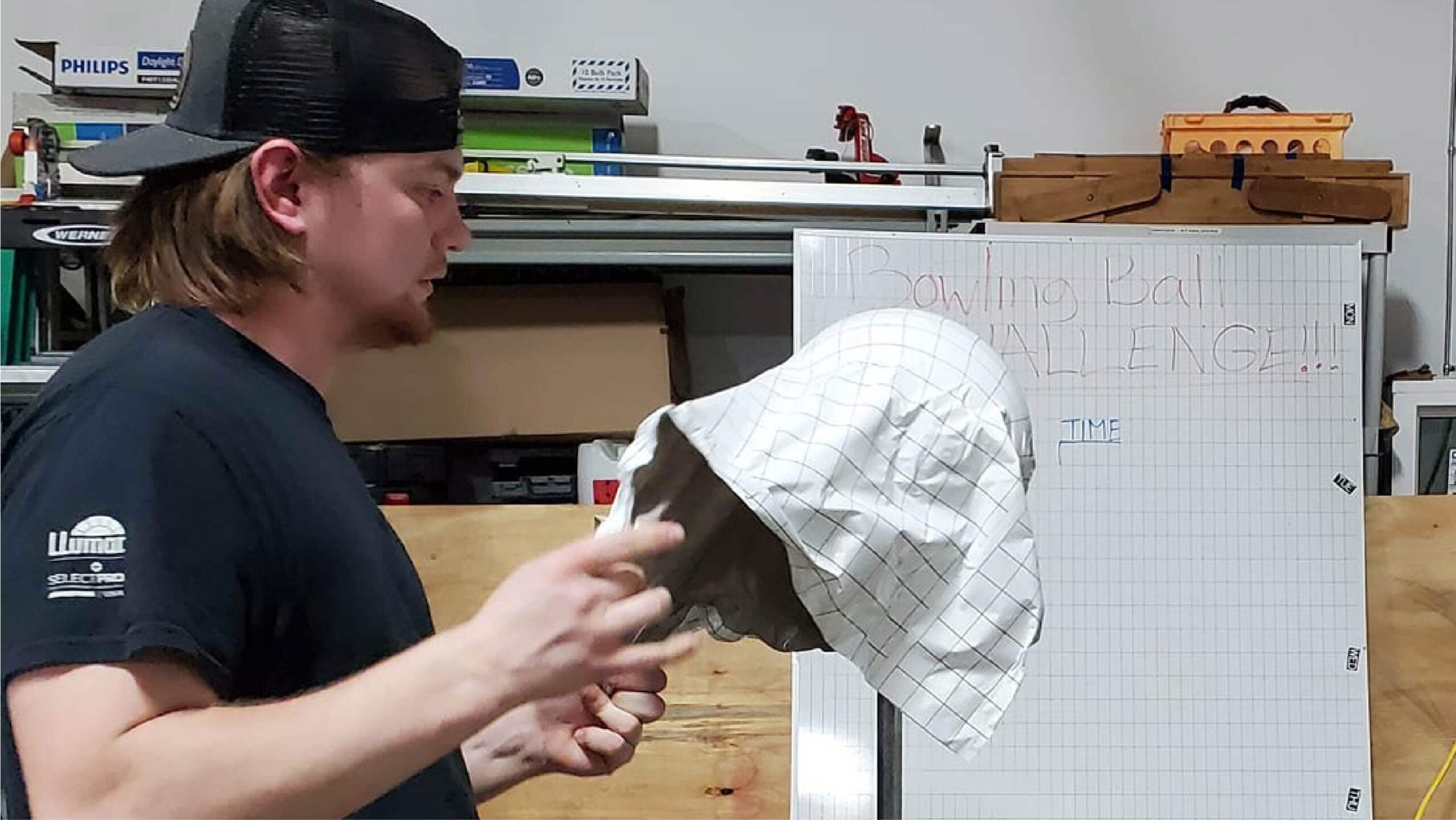 Bonus for the Brave: The Bowling Ball
After Tyler took home the first-place prize for the wrap contest, the bonus round began. Anyone, contestant or judge, could try their hand at wrapping a bowling ball attached to a pole. Competitors had just three minutes, a squeegee, and a blowtorch to get the job done.
No one wrapped the entire ball, but most came close. Still, it comes as no surprise that Chris, our resident wrap expert and one of the most certified installers in the country, absolutely crushed this challenge.