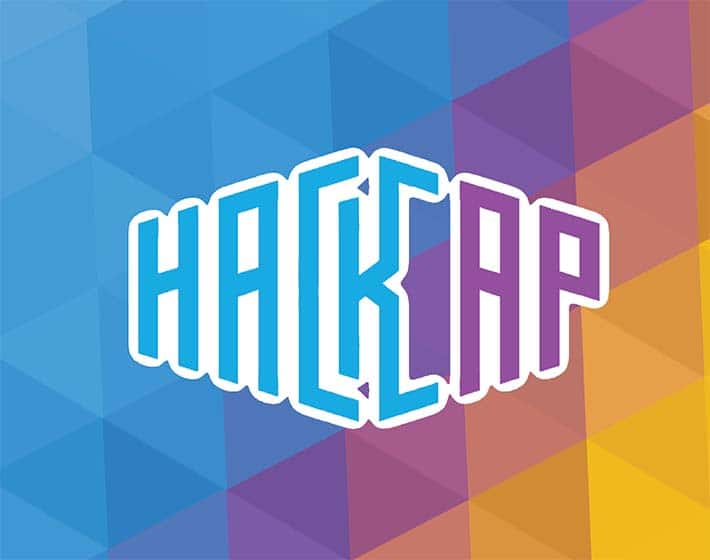 At the beginning of each quarter, the AP Corp staff gathers for an all-hands meeting. These meetings are when and where we share our success, discuss our plans, and share important company updates. Before, these meetings were quick and lead entirely by our leadership team. But Chris Fong and Mia Pierre, our Principal Engineer and Business Manager, respectively, had something different in mind for our meeting on April 9, 2022. What they created was the first-ever AP Corp hackathon, Hack AP. Here's how it went.
Getting Warmed Up for the AP Hackathon
It was a morning like any other. Everyone woke up, traveled to AP Corp headquarters in Sykesville, Maryland, and enjoyed the customary, free pre-all-hands-meeting breakfast.
It was during breakfast that we noticed the first signs that this meeting would be different: a new banner on display above a table covered in gift bags. Curious as we all were, we were told it was all part of a surprise and chose to let it be.
Department Check-In
Instead of just a handful of people sharing highlights from the first quarter of 2022, one person from each department was given a few minutes to speak on the success of their closest coworkers. We won't bore you with the facts, the figures, or the numbers but we will fill you in on some of our team's biggest wins:
Rob, a residential tinting product expert, took the chance to pursue cross-training and completed one of our favorite custom window graphics projects to date.
Dan, AP Corp's production whiz, worked with Business Manager, Mia, to implement a new workflow that reduced product waste by 13% compared to last year.
AP Corp Graphic Designer, Jensen, completed a massive design project with MedStar Health while training and onboarding a new teammate.
Installation Manager, Christopher, has welcomed two brand-new installers to his team. He also welcomed our old friend, Alex, back.
AP Corp's latest social media obsession is Instagram reels, but we decided to make a TikTok while we were at it.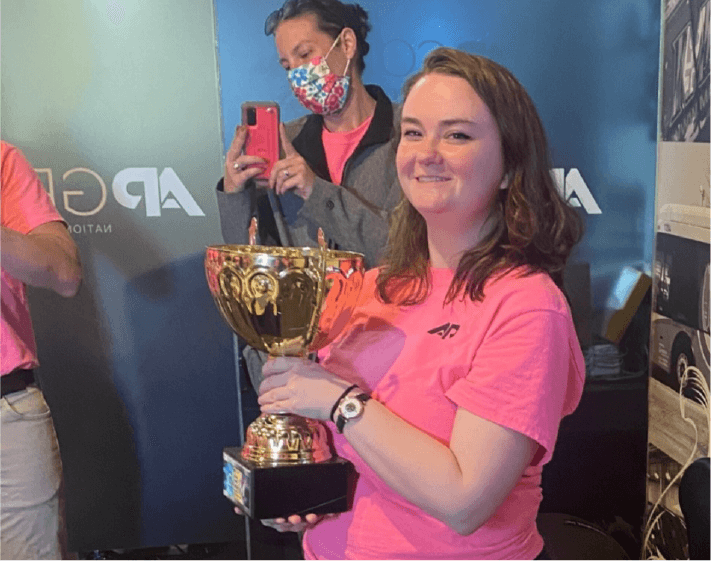 The G.E.M. Award
This might be the weirdest paragraph of an AP Corp blog, ever. Why? Because the winner of the coveted G.E.M. (Going the Extra Mile) Award for quarter one was Randi, the Digital Marketer who happens to be the author of this blog post. Congratulations, Randi! Or… yay me? Whatever.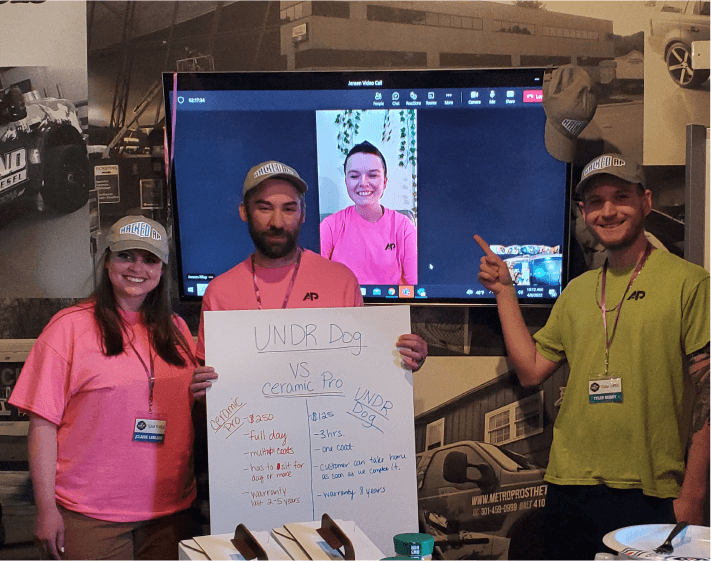 AP Corp's first Hackathon – Hack AP
Now we get to the fun part: the AP Corp Hackathon. The event, Hack AP, divided our staff into four groups of five with members from different departments. The teams were given a prompt, 30 minutes to brainstorm, and five minutes to pitch their ideas to our panel of judges. The winning team would be given the time, resources, and guidance to make their idea a reality.
By the end of the presentations, we had a clear outline for a referral and rebates program, an interactive customer survey strategy, a new ceramic coating product for AP Auto, and a redesigned installer apprentice program. In a shocking turn of events, more than one proposal was selected. Our judges decided to accept every proposal!
Still, there can only be one true winner. This time it was Group 3, who used their presentation to introduce the company to a new ceramic coating for vehicles that cures in half the time of its competitors.
Now What?
If Hack AP taught us anything, it's that we're better when we work together. By creating teams with representatives from every department, we were able to tackle some of the most challenging operational questions we had in under an hour. The answers to these questions were designed to work well for everyone from sales, to installation, to the end-user. No one is left with the short straw!
So where does AP Corp go from here? We go back to business as usual, but with clearer heads and visions for the future.