AP Corp's Acquisition of Carolina Solar Security
AP Corp's Turnkey Window Film & Graphics Solutions Expand to Coastal North Carolina.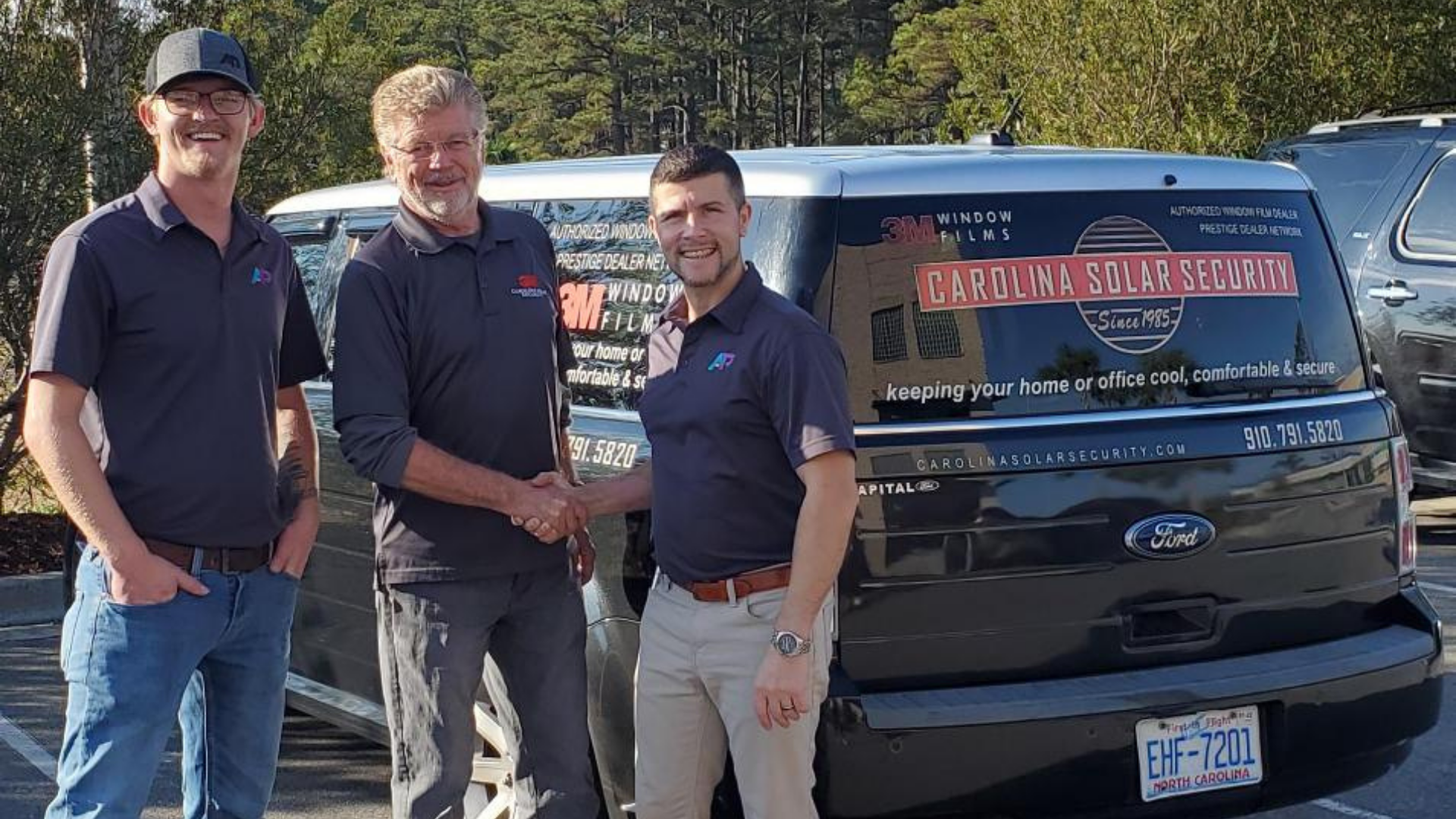 Luke McLawhorn (General manager of AP Corp NC), John Norwoord (Former Owner of Carolina Solar Security), and Bill Valway (CEO of AP Corp) meet to finalize AP Corp's acquisition of Carolina Solar Security.
AP Corp's Acquisition of Carolina Solar Security is official! Carolina Solar Security is Wilmington, North Carolina's largest and most experienced 3M™ authorized window tint dealer. Since opening in 2001, AP Corp has grown from a 1-man auto tint operation to team of 20+ working out of three mid-Atlantic locations.
Our Backstory
Bill Valway, CEO, started AP Corp in 2001 as a car window tinting company in his parent's garage. In the years that followed, he added related services like paint protection film and vehicle wraps. Tinting cars soon turned into tinting windows in homes and businesses, providing vehicle wraps, and offering commercial graphics. Twenty years later, AP Corp is the 7th largest window film dealer in the United States and wraps the country's largest commercial fleets.
Why Carolina Solar Security
AP Corp and 3M have been seeking an opportunity to partner in the window film business. Then, Manny Hondroulis, Vice President of Energy Products Distribution, presented AP Corp with the opportunity to acquire Carolina Solar Security. In 35 years of service to coastal North Carolina, they became a major force in the region's window tinting industry.
It's easy to understand why Bill Valway and his team jumped at the chance to combine forces with Carolina Solar Security.
Luke McLawhorn, General manager of AP Corp NC, AP Corp's North Carolina entity is looking forward to making an impact. "It's been an incredible journey since I joined the team in 2018. Bill and the AP Corp team have allowed me to grow more than I ever imagined. I'm grateful for the opportunity to lead the North Carolina expansion as the general manager and partner."
The 3M team is just as excited about this milestone as we are. "We're excited to have AP Corp join the 3M Window Film family in Wilmington, NC through the acquisition of Carolina Solar Security," said James Passage, 3M CSD. "AP Corp's reputation at building end-user awareness is well known, and we're confident that it will strengthen our foothold in the Wilmington market. We're looking forward to the partnership."
Growth in North Carolina
We realized that we needed more space to meet the demand for our turnkey window film and graphics solutions in 2017. So, we expanded to North Carolina and doubled our serviceable area. By acquiring Carolina Solar Security this year, AP Corp is expanding its reach in the state. AP Corp's Acquisition of Carolina Solar Security also further solidifies our relationship with 3M and makes us an exclusive dealer of 3M Prestige Series Films in the region.
What's Next for AP Corp?
While we continue to exceed our clients' expectations with industry-leading products and service, we are looking for new opportunities to expand. AP Corp is always looking forward to the next step in our journey, and our acquisition of Carolina Solar Security is a leap forward.