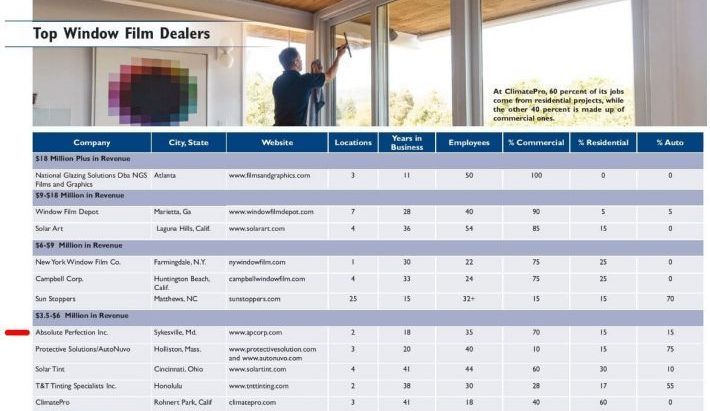 AP Corp was recently named the 7th largest window film dealer in the United States by Window Film Magazine. To add, we actually lead our individual category of companies who fall in the $3.5 – $6 million in revenue. It's amazing how far we've come as a company, and we've only just begun to scratch the surface!
4th Youngest Company on the List
Of the 17 companies on the list, AP Corp is the 4th youngest. Being in business for just 18 years, we've worked hard to expand our footprint in calculated ways that ensure the best service for our clients, every time. We believe it is our dedication to delivering absolute perfection has helped lead this company growth. In fact, that is what the "AP" In AP Corp stands for: Absolute Perfection!
How has COVID affected business in 2020?
A major focus of the article in Window Film Mag was on how each business found a way to navigate through COVID-19. Here at AP Corp, we were hit hard by COVID with a state-wide shut-down. During the shutdown our team members shifted to working from home in order to find ways we could hit the ground running when the state-wide shut-down was lifted. As a result, our company has maintained its course and hit its revenue projections for the year 2 months early!
Bolstered by Our Core Values
Our core values are a major factor to our continued yearly growth here at AP Corp. In fact, a large part of our hiring process is matching potential applicants against our core values to see if they'd be a perfect fit. The AP Corp core values are: 
Be Curious
Be Fearless
Be Better
Collaborate
Care
If a new applicant doesn't fit these core values (shown below) they are not hired. We've found that this focus on our core values has given us the traction we need to continue to grow and hit our long term growth goals.
What will 2021 Bring for AP Corp?
For starters, look to see us on this yearly list of the largest distributors of window film. Beyond this, our company will continue to focus on finding ways we can innovate to bring the best possible service to our customers at a fair and honest price.