Our yearly holiday party is one of our favorite moments every year. It is our team's opportunity to come together and celebrate our company's achievements, look at what is to come next year, and dish out some awards. In this article, we highlight some of those moments from this year's party. Mostly, we'll be celebrating our 2020 award winners.
2020 – The Year of COVID-19
The year 2020 was a tough one. The COVID-19 virus really put a hurting on our industry, and the entire world for that matter. When it comes to our business, COVID had a pretty big effect on our day-to-day operations. After all, what we do involves physically going to people's homes and places of business.
So, what did we do? In order to keep everyone safe, we had to adapt.
We dramatically increased our safety protocols for both on-site and in our buildings. This included daily COVID symptom testing, using face masks and gloves, and regular cleaning of both our buildings and equipment. We also made some changes to on-site automotive services (tinting, paint protection film, wrapping, etc.) which included safer drop-off procedures as well as creating an all-new outdoor seating area.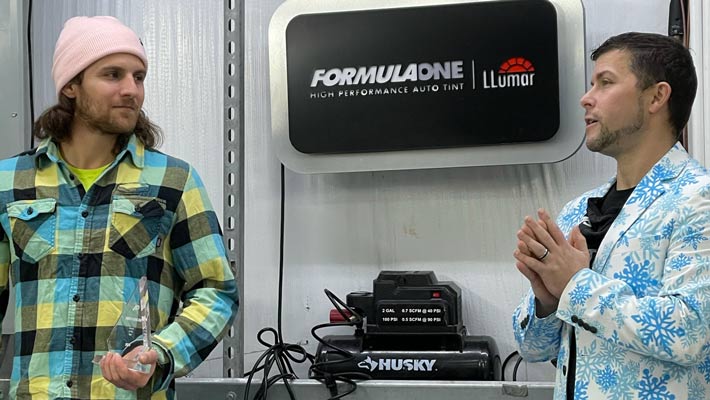 Rookie of the Year – Chris Heinlein
First, up? Rookie of the Year Award. This award always goes to someone who has been with the company less than one year, but in that first year really gave it their all. The 2020 winner of this award, Chris Heinlein, earned this award and then some. His skill and passion for his craft is captivating. More importantly, Chris's drive to be better every day aligns perfectly with the type of company we are.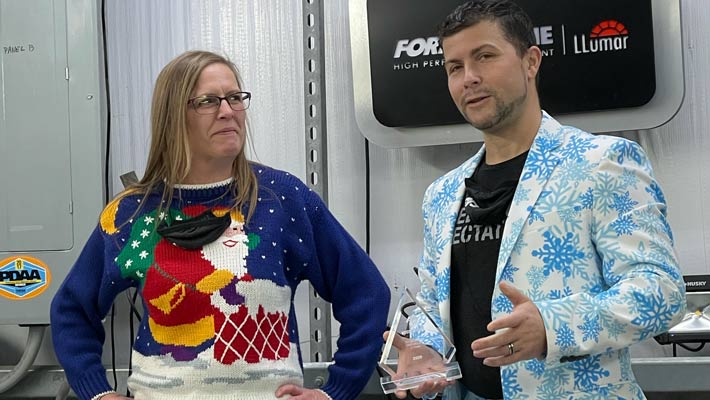 Million Dollar Club – Becky Duke
This award goes to the sales person (or persons) who make over 1 million dollars in sales. This year, Becky Duke eclipsed that $1 million mark. This is the fourth year we presented the million-dollar club award—and the fourth year Becky has won it!
To put it bluntly, this is not really a surprise that Becky won this award. Becky works her ass off every day. Her passion for helping people, is such an easy transition for her work here. She gets to help her clients get their business noticed—leading to more sales for their businesses—with a new vehicle wrap.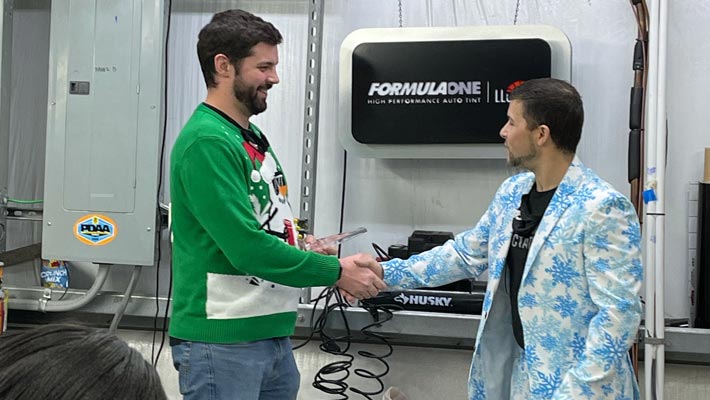 Core Values Award – Bryan Kratz
Our Core Values Award is reserved for the employee who lives and breathes our company's core values. In case you haven't seen them, our company core values are…
Be Better
Be Fearless
Be Curious
Collaborate
Care
Our core values award went to the employee who exemplified these values: Bryan Kratz. When talking with him, you can always feel his passion for our company. This passion is actually an embodiment of the above core values, values which he lives and breathes all day, every day.
What Does 2021 Look Like for AP Corp?
This year is a year of staying alert. COVID-19 still lingers around, and with such uncertainty on the horizon we must remain on our toes. AP Corp's focus has been, and always will be, on ways we can better ourselves. 2021 will be no different. If anything, we're gearing up to have one of our best years yet not only from the perspective of helping our clients, but with regards to some exciting things happening in our office as well. Stay tuned!